Is Real Estate a Good Investment in Bangladesh?
People usually put their savings into different areas where they think they can get a good return in the future. Investors may choose from a wide range of possibilities, from stock markets to bonds and mutual funds, to real estate investments that will increase in value over the years. However, not all investment options may provide the same level of expected return in the long run. Moreover, you may lose a lot of your savings and investments if you're caught in the middle of a socio-economic catastrophe. To avoid losing your hard-earned cash, you should only invest in secure options with the least risk while yielding the best return. In light of these facts, it's no surprise that real estate has long been regarded as one of the best ways to invest, not just in Bangladesh but across the world. Investing in Bangladeshi real estate may be on your radar for some time, but you're still unsure about the long-term return on your investment. Don't worry about it! Read this article to get an overview of the reasons to invest in real estate in Bangladesh.  
A Permanent Shelter
Most of us have a long-term goal of owning a home of our own. While many of us have permanent homes in rural areas, we all desire a permanent roof over our heads in the nation's major metropolises like Dhaka, Chittagong, or Sylhet. As the nation's industry and urbanization are mostly based on these cities, the need for a permanent residence inside these cities' boundaries is understandably strong. Many of the difficulties associated with finding a suitable place to live are resolved when a person's demand for permanent housing is met. Furthermore, saving money on renting an apartment might significantly lower your monthly expenses. Beginning your career with the intention of making investments in real estate holdings is an excellent method to build a solid foundation for one's future financial stability.
Predictable Cash Flow
Renting out your investment property as a business or residential space is a suitable option if you aren't planning on occupying it yourself. It ensures a regular stream of money. A couple of years is all it takes to pay off your real estate investing debts, even if you borrow money to get started. Afterward, you'll have a home in Dhaka and a potential source of revenue from the property. As the population of Dhaka grows, so will the city's need for more housing. Moreover, a property's rent will climb with time if it is located in a well-known region like Gulshan, Dhanmondi, or Bashundhara. As a result, the more money you put into real estate, the more monthly fixed income you'll be able to get.
Continuous Increase in Value
Broadly speaking, the value of property always goes up with time. In most cases, if your property is located in an area where significant infrastructure development is expected in the future, the value of that property can skyrocket overnight. In addition, properties in prominent business and residential areas tend to see a growth in their value over time. Interestingly, properties usually go through this increase in value even if they remain in the same condition they were in when they were purchased. You wouldn't need to do anything further to raise the value of this property. When it comes to investments, real estate holdings provide the highest return on your money. So, with Bangladesh's booming economy, real estate investing is a tremendous way to make a lot of money.
Heavier Return 
The above points emphasize that real estate holdings may provide a steady stream of revenue while also appreciating in value. Real estate investing has the highest potential for value return when compared to other investment options like the stock market, mutual funds, or bonds. Stock markets are very tough to predict, and during an economic crisis, they can hit a low point. A financial crisis can have a negative impact on the value of bonds and mutual funds, as well.  However, even amid a financial crisis, there will always be a demand for housing. So, Investing in real estate carries the lowest risk of financial loss. Because of this, the return on investment in real estate is substantially higher than any other sort of investment. 
Lower Initial Investment
When investing in the stock market, a large sum of money is needed upfront in order to get a healthy return. In contrast, you don't need to have crores of money in savings to invest in real estate. Instead, you can easily get a loan from a bank or other financial institution to put money into real estate. While the idea of taking loans may put you off, it enables you to invest in a permanent property even with a meager income.   As tedious as it may be to put money aside each month to pay off a loan, after you have paid it all off, the property will be solely yours, ensuring you a fixed cash flow for years to come. Follow this step-by-step guide to buying a new property in Dhaka.
Inflation Adjustment
For any country, whether it is one that is already highly developed or one that is still in the process of developing, inflation may be a nightmare. It is possible for the value of your assets to be reduced overnight, whether they are cash in a savings account or stock market or raw minerals like gold or silver. Properties, however, such as land and residential or commercial buildings, are almost always trending in an upward direction. Even amid inflation, the value of these sorts of properties rises instead of falling.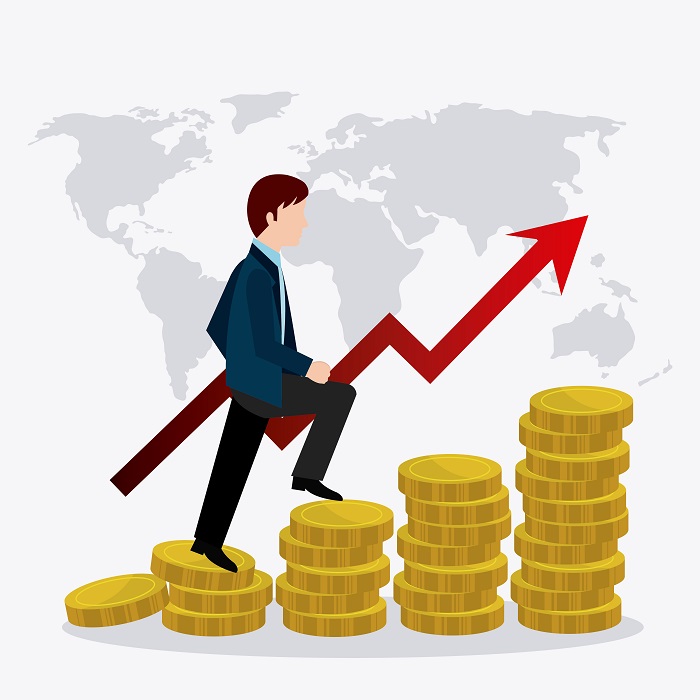 Source: Freepik
Opportunity to Leverage
Leverage in real estate refers to taking home loans in order to increase the rate of return on your investment in real estate. If you don't have the money to buy a property altogether, you'll be utilizing leverage by borrowing money to grow your equity in the property. Say, for instance, that you have 20 lakhs BDT in the bank. You could decide to put all of that money into an investment property. In two years, the value of the property goes up by 10%. Your original investment of 20 lakhs BDT is now worth 22 lakhs BDT. 
Now, let's have a look at a different situation where we bring leverage into action. In this case, you might put your 20 lakhs BDT as a down payment on a house worth one crore BDT. You borrow the remaining 80 lakhs from a bank. The property's worth has also climbed by ten percent in the intervening two years. Now, if you sell this property after two years, you'll have made 10 lakhs BDT in profit. As a result, you were able to take advantage of other people's money in order to make a profit of your own.
Equity Buildup
In the previous section, it was said that using leverage to invest in real estate also lets you build up your equity in that property. Equity is how much of your home you really own after you have been paying your loans for a certain period of time. Calculate the difference between the market value of your house and your loan debt to determine your equity. Please consider the previous example of an 80 Lakhs BDT fixed-rate loan for a better understanding. Considering the property's worth at the time of acquisition, the loan amount indicates an 80% loan-value ratio. As a result, the investor had 20 lakhs in equity at the time of purchase, or 20% of the property's worth. The investor would have returned 63.35 lakhs BDT of the initial loan after ten years of paying the loan payments at a 5% interest rate. This indicates that his/her equity in the property would rise to 83.35 lakhs BDT or 83.35% of the property's initial worth. Moreover, if the property's value has organically climbed by 20% over the past decade to reach 1.2 crores BDT, the investor's equity will be worth not just 83.35% but a whopping 100.02% (1.2 crores BDT X 83.35%). In other words, the investor will own the property outright in just 10 years. 
Ability to Improve the Value
In terms of financial advantages, real estate investing has a distinct edge since you may raise the value of your property by upgrading the property's quality or appearance. Investing a little amount of money in a property's renovation may boost its value by several times. You may easily sell that home for a much greater price by repairing any existing defects and also upgrading the exterior or interior. By making enhancements to your property in this manner, you may raise its value and increase your profits.
Secured Retirement
The ability to pass on an asset that is durable, reliable, and secure to subsequent generations is one of the many benefits that come with owning real estate. After retirement, you might want a place to call your own where you can unwind in safety and comfort, or you might want to give your children their own address so they can feel at home. Putting money away in other places won't guarantee you a safe place to live once you've reached retirement age.
Prestige
The act of investing one's money in real estate carries with it a certain form of status. Moreover, today's developers and real estate companies are developing contemporary complexes complete with all the most recent amenities. For those who can afford it, the status of owning such lavish property can surely enhance their social status. 
Current Government Policies
The government recently reduced the tax amount on property purchases in order to reduce the impact of the pandemic, a move that will benefit investors. In 2020, the government cut the registration charge from 2% of the total land or flat price to 1%, bringing down the effective registration cost to 10% from the previous 14%. With this change in policy, now is a great moment to make a real estate investment. Moreover, govt. has also implemented a policy to give housing loans to govt. employees up to 70-75 lakhs BDT at a cheaper interest rate, which is a great opportunity to grab if you are a govt. service holder.
Growing Market Size
The real estate sector in Bangladesh has a market value of 6000 crores BDT. Medium-sized flats between 1200 and 1400 square feet have seen a 39% increase in the previous five years. Dhaka and Chittagong are the two largest cities in Bangladesh, where the real estate business is booming. Dhaka and Chittagong's ever-busy urban society has a significant demand for smaller apartments. First, the real estate market in Bangladesh spiked in 2006 and lasted until 2009, and then again in 2015 and lasted till 2018. In the years 2022-2025, we may expect a further increase. Bangladesh has seen a dramatic increase in the number of Development Projects in the last decade all around the country; roads, highways, expressways, MRTs, and more are being built. While enormous regions like Bashundhara, Rupayan City, Purbachal, and others are being developed into self-sufficient gated communities, there is no better moment than now to start investing in real estate since it will boost the economy. The value of the real estate will go up even more. Making a large investment now will pay off handsomely in the future.
Summary
When you consider everything, any questions you may have had about purchasing property as an investment should already be settled. Getting a decent return on the money that we have been storing up throughout our lives is one of our ambitions. Consequently, when the term investment is brought up, there are no other ventures that can provide the same outstanding return on investments with such low starting capital, which is why most people invest in real estate properties. With a growing population and a booming economy, this sector appears to have more promise than ever in Bangladesh.
F.A.Q.
How can you get started in the real estate industry if you are a complete beginner?
Ans: To secure some good investments in the real estate sector, consult with a real estate agent who can help you find the best deals in the ever-growing market.
Is there any glossary available to get yourself introduced to common real estate terms?
Ans: Find out the most common real estate terms.
How much equity can I expect in ten years if I take loans for buying my first property?
Ans: A number of variables influence how much equity you have at a given point in time. This blog will help you figure it out for yourself.
How much does it cost to register a property that costs 50 lakhs BDT?
Ans: To register a property, the current fee is 10% of the purchase price. As a result, a property worth 50 lakh BDT will cost you 5 lakh BDT for registration purposes.
What is the best type of investment during inflation?
Ans:  Inflation affects almost all forms of investments. Real estate investments, on the other hand, are a solid bet since property values and rental income rise in lockstep with inflation.